Providing For Our Needs : DAK Ministry Update November 30, 2015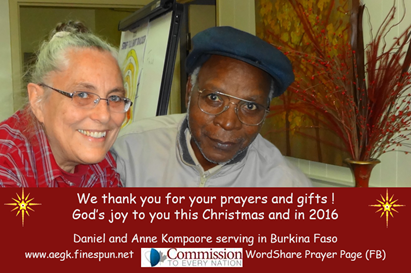 Dear Friends,
These last six months have been full with both joys and concerns:
We thank God for protection and a peaceful resolution to the aborted coup attempt in Burkina Faso on September 16-17. It could have been much worse. The transitional government was re-installed, and elections took place on November 29, 2015. A new president, Roch Marc Christian Kabore, has just been elected.
Pray for the urgent needs of ANTBA. ANTBA has had to lay off all of its permanent employees and rehire them on a contract basis because of severe financial crisis.
Learn what our ministry is all about – See Our Ministry
Keep updated – See Kompaore News
Contact us! Go to www.ctenc.ca/dan-annekompaore and click on 'Contact the Missionary' at the bottom of the page.
Get involved! Give, pray, visit, come on a work project.

All Canadian and American donations will receive tax-deductible receipts.